Le Pandorine bags collection spring summer fashion trends
Le Pandorine bags for women new collection spring summer accessories clothing fashion trends designers online fashion Le Pandorine spring summer.
Le Pandorine bags.
The Pandorine The collection bags for spring summer gives us new pearls of wisdom (maybe I have a little 'too much), also presents a new model nice bag PVC called Magdalene . Into Pandora is a relatively new brand, was in fact born in 2008 from the union of two designers in Milan Chiara and Manuela, who decided to create the bags roomy, comfortable and carefree, with the ingredient fundamental to a lot of irony and personalities represented in the quotations that reign protagonists. Into Here are some phrases from the new collection Pandorine spring summer.
– I'm perfect is the world that is wrong.
– Punta always going to the moon … Mal you walked among the stars.
– there is no love more sincere than that … for food.
– I was like Snow White … Then I let myself go.
– a woman need a man … like a fish need a bicycle. Into The model of cotton bag costs 86 euro, the new Maddalena PVC costs 68 euro, while the Luxury faux leather costs 130 euro.
Le Pandorine bags collection spring summer fashion trends.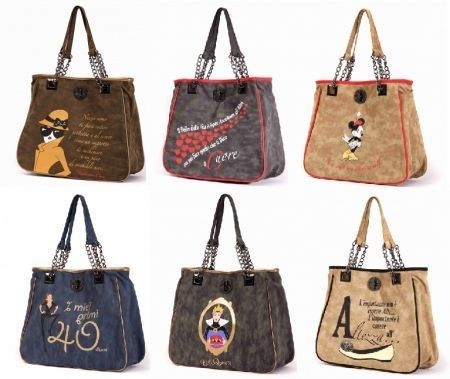 Review risorseutili.com : Le Pandorine
Le Pandorine bags collection spring summer fashion trends.
Weekly news for Le Pandorine : (with more read articles of the week and novelty ) you can sign up for free to our Newsletter or Feed in the form on the right. Of course it is possible see or share all ours content ; thanks to the buttons "Follow" on our social spaces in the following links. The our Twitter, our Google+, our Pinterest boards, or choose the I like it and share it on Facebook. If you share the article on the socials you can reward our commitment ; thank you again to all of our readers.