Vera Wang new collection bridal black and white 2014 dresses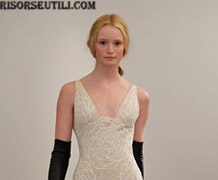 Vera Wang new collection bridal black and white 2014 dresses fashion spring for women wedding with accessories shoes clothing and trends for modern look.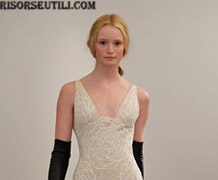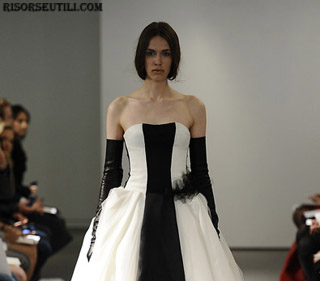 Vera Wang wedding dresses 2014 collection black and white, sensuality and discipline to the Vera Wang wedding. We begin to see the new Spring 2014 bridal collections proposals to the New York International Bridal Week beginning from one of the most anticipated, if not the most anticipated of all: Vera Wang.
Leave the complicated architectures and multiple volumes and combinations of fabric, with the Vera Wang bridal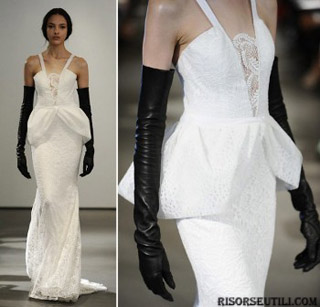 collection Spring 2014 marks a return to the purity of rigor, proposing a set of 17 models that "celebrates architecture and a sense of discipline," explains the designer .
After proposing the Vera Wang wedding dresses 2013 beautiful dream wedding in red, Vera Wang returns to dare with the color offering, for the Spring 2014 collection dresses playing with black and white: "The game's graphic black and white – explains the designer – stratification of new lace, fabric on fabric and the exploration of different volumes, everything is an expression of a new level of modern sensuality with a fashion style decidedly avant-garde. "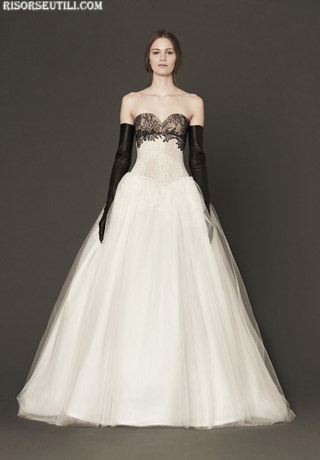 The game of black and white is expressed first of all in the details, like the long leather gloves blacks combined with all models except three, which are white seen on the catwalk.
Black also for corsets or any part thereof.
Chic, sensual and structured, a collection that Vera Wang describes "an ode to sensuality, to the structure and modernity."
Dresses style decided, designed to capture the attention, also as a perfect evening gown or wedding.
The collection includes different silhouettes and fabrics.
Including A-line dresses are very classic dubbed in lace, modern effect by combining the leather gloves.
The collection also includes dresses column lightweight, vintage-inspired, and, as the designer said "a little bit Audrey Hepburn", with the addition of a top layer of chiffon or lace.
Also notable is the wedding dress mermaid with large floral patterns.
Obviously there had to be beautiful ballgown, proposed with romantic white skirt and black bodice.
Surprising really the wedding dress in black and white stripes. Finally, the really gorgeous black ballgown with corset dubbed in lace and black border. A real dream!
Still a choice collection, to give ideas and advice to those who buy fashion online resources, and what do you think of these latest trends, for purchases of high fashion and clothing? Again, to you the judgment, look at the gallery of Vera Wang, to get a better idea on the new collection. Find further information in our categories, you can share the article on social, thank you for choosing this site, and good navigation.

All Vera Wang for designers present new collection fashion news and shopping trends with accessories always in high demand are visible in our categories and online.
Selected from the whole collection Vera Wang. Watch them the photo gallery … Links from the photo below.
More Articles: Vera Wang fashion new collection spring summer 2013 dresses