Italy news Beppe Grillo more than a million people in Rome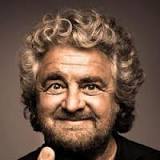 Beppe Grillo more than a million people in Rome, 850,000 in Piazza San Giovanni, Rome, 200,000 in the most streaming live around the world by many televisions curious.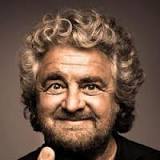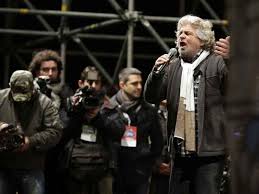 Rome, Piazza San Giovanni overflowing with people to attend the final meeting of the Movement 5 Star Beppe Grillo.
A real human tide early in the afternoon has completely saturated the square waiting for the speech Beppe Grillo.
The Order toilets close the streets of Rome, the square is too full, with 50,000 ininizia streaming, speak candidates for the Italian regions, they show videos and testimonies of political statements, describes the Italian constitution "copied from half the civilized world," the audience listens to four hours in the rain that comes and goes, and after touching topics progressive and revolutionary, unique in the world, comes the moment of candidates for the Roman region. You can not easily tell there were televisions around the world, (following Beppe Grillo from 74 speeches in all Italian squares, why did the entire electoral campaign, no money and online voting, FIRST TIME IN THE WORLD) Cutting short if you want to read the political program online, made by citizens and Nobel Prize winners, with power from below, says Beppe Grillo. The end results: 850,000 in Piazza San Giovanni, Rome, 200,000 in streaming plus worldwide by various television networks. Disbelief and moved in front of these numbers, thanks to the promise of a new Italy. Beppe Grillo had filled squares throughout Italy, a former comic curious and modern, it may still prove to people clean and skill, after making others laugh countries, Italy can be an important player for the progress of the world .
Some points of the program:
1: Income of citizenship, with job offers from government online.
2: Public Water
3: Internet access by right of birth.
4: The laws do not make policy, they must first be approved by the public online.
5: Abolition of: car for politicians, early retirement pensions for politicians, conflicts of interest, funding for political, financial newspapers, funding to private schools, and much more.
6: nationalizing seriously and modernize public institutions such as schools with Kindle, no more packs of 30 kg, and efficient public health separate from the private sector.
7: Computerize with the web, all politics and administrations, in a transparent way.
8: Transition from traditional energy sources, alternative energy in 20 years.
9: Waste collection with earnings, not to pay.
10: Companies within the university, for immediate placement at work.
11: Do not build, but renovate the houses, to produce energy and sell it to the grid, with double glazing, insulation, heat pumps and solar panels.
12: Electric cars that can recharge from an electrical outlet, and sell the excess energy, in the network counters.
13: Farming without chemicals and without tractors without plowing up the ground, with new plants already used, which are cresciere double the harvest all year round, without chemicals, with the cows still grazing.
14: Via incinerators and synonyms, can be produced and otherwise dispose of earning.
15: Thread compulsory in parliament, the popular will.
16: Bank of state for small business financing and more.
Many other points and a lot of things already made, by the movement 5 stars (where Beppe Grillo is not a candidate, it guarantees only that ordinary citizens, candidates of the area, clean for justice, and highly qualified)
Curious about: http://www.beppegrillo.it/
Whoever does not believe is on YouTube. http://www.beppegrillo.it/lacosa/ (streaming is the most watched channel in the world)