Prada collection spring summer accessories fashion trends
Prada collection shoes and bags spring summer accessories fashion trends for women clothing and designer online fashion resources with brand most recommended.
Prada Spring Summer fashion trends – collections bags, shoes and accessories
Prada accessories always penates and blend perfectly with the collection – so this time
The entire collection Prada spring and summer, it is interesting and worthy of attention:
PRADA – SHOES SPRING SUMMER
The collection of shoes for spring summer Prada is inspired by the vintage cars, but instead of marmita, these have shoes of lipstick red. Another time we will see the accessories, the shoes are now protagonists.
us to 'warm up the engines' for what will be, will be Prada, with her shoes literally HOT. Are, in fact, and colored his sandals for spring summer. Perfect for not go unnoticed, we imagine them put on during a hot August evening.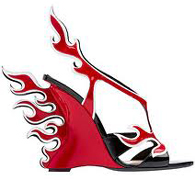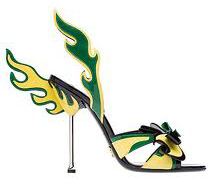 PRADA – BAGS SPRING SUMMER Prada handbags we liked them right from the fashion show at Milan Fashion Week, those retro cars have inflamed our hearts, and now finally we find them on the bags. If you are looking for a new purse, dream with us and with the new Prada handbags for spring.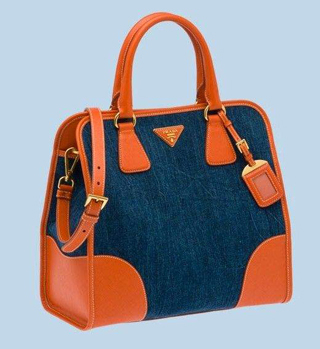 The Prada handbags are a guaranteed success every year for spring summer is inspired by the old vintage cars, especially Cadillacs, or to be part of. These new bags are cute and bubbly, the nicest cars are certainly the ones with the whole, however, we must be wise, they could possibly be in vogue these bags? Not much … and then it is better to focus on the handbag minimal yet timeless.
I know that sometimes it's boring not being able to launch the shopping spree riding all the trends of the season but, alas, we have the salaries of the stars of Hollywood and we can not afford 1500 euro to keep the bag closed closet. Maybe if you just can not resist the latest trend of the season, you might consider the idea of renting out your bag of heart for a limited time.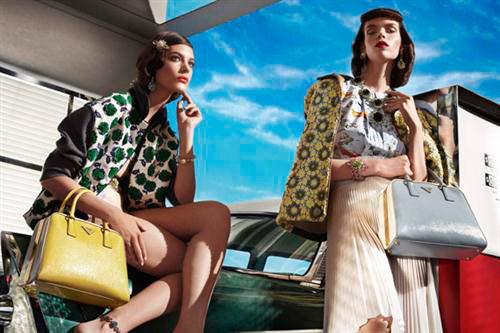 For spring summer Prada focuses on models in leather, we clutch and clutch very nice, or with machines or with flames is a decoration of the Cadillac. Whilst on the subject of "extravagance" Miuccia Prada also gives us the pouch decorated with a stylized bow, a nod to the lights of the car, and that the closure has a lipstick.
The collection is completed with minimal two-tone leather handbags, briefcases, tote and many other models perfect for everyday life.
PRADA – ACCESSORIES – JEWELLERY, SUNGLASSES, BELTS SPRING SUMMER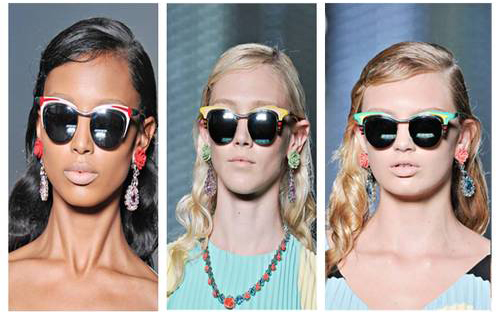 Jewels presented in the collection do not fit the main parade, futuristic trends, which is maintained in the entire collection of fashion Prada. Earrings, bracelets, necklaces full of roses, which look a little 'snob and Cheesy. They have the taste of the old and the taste of the modern as it once was, the parures necklaces-earrings-bracelets-pins are packed in boxes of velvet. But the roses are of leather and resin, semi-precious stones and gems are the wrist bands are crocodile. The new Capsule.
The designers "Prada" present their new collections trend with accessories, always in high demand, are visible in our categories and online.
Review by risorseutili.com: Prada collection spring summer accessories fashion trends.
Useful Fashion Resources: Trends Clothing Accessories
Anyway here and in our Feed Newsletter soon other new links in review: by Fashion trends Prada all news on Prada Store. In any case a big thank you to the visitors of risorseutili.com we wish you a fantastic day and good research in our brand articles.