Replay new clothing collection for men spring summer trends
Replay new collection fashion trends Replay clothing accessories with jeans Replay spring summer for men.
Replay new collection
Menswear spring summer Replay new collection clothing line for men has a number of proposals, from denim, shirts, sweatshirts, t-shirts and even jackets, practical, sports, definitely trend. In the men's casual brands, jeans Replay over many years a classic but with something new, maybe with something over the top to create small surprise, perhaps for a special occasion, but always 'simple' also remember that Replay celebrates 30 years of activity in some packages celebratory occasion.
Fashion trends Replay clothing accessories

If not then it is what you want, you can also browse through the accessories, there are many and you will find something you like. Let us see what are the guidelines of this collection and fashion trends Replay clothing accessories with t-shirt in the summer are the masters, inspiration always comes from the U.S., with prints that recall the mascot of American rugby teams, but always with the R in the foreground, or with writing always remember one of the most popular sports in the continent Stars and Stripes. If you're a biker why not orient to those printouts Hell's Angels, groups of American bikers on Harley with skulls everywhere, so the eagles shirts, bandanas and everything is damn motorcycle. The colors? Certainly very soft and not at all 'break', white, light and dark gray, red, pink, sage green and blue neck 'V' but never deep, round or polo. The sweatshirts follow much the same style.
Jeans Replay spring summer for men

The shirts always follow the casual style, both cotton and those in jeans, always in remembrance of America, the tartan patterns are very reminiscent of the woodcutters of the mountains, those who walk trunks, a little rough but so fascinating, or classic jeans, perhaps enriched with patch pockets inside striped blue and white rolling up the cuffs can be seen. In this case the colors are very soft shall never be 'excessive': blue, red, purple, white and yellow and the classic denim or a little scolorito.Il denim, which is one of the highlights of jeans Replay is very classic, five pockets, straight line or slightly enlarged in the leg, but never tight, faded in the points 'expendable', dark blue, or lighter, wearing lapel with a view or not, something in gray and something in black .
Replay new clothing collection for men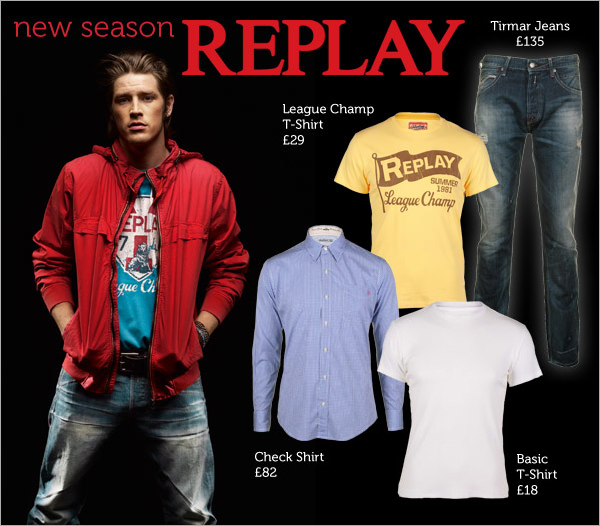 Out from the crowd, and certainly for the younger ones, a return of ripped jeans that does so much experienced man 'road', very easy.  Replay new clothing collection for men obviously recommend them for leisure, while beautiful that the tear does a little 'stray', then I would avoid places 'official' as the office, an interview, a meeting of jackets and so we have classic jacket jeans, if you miss it, you can compensate, but that's also waterproof jackets suitable for spring or even to cover motorbike or scooter because waterproof and windproof, yet practical because they are light, with the inside printed with lots of pockets so you can also be practical because you can put phone, glasses, wallet, keys … Colors, know that we are talking about sports but always classic, and on the red but also blue, gray, brown and black.
But Replay is not only clothing, but also accessories such as belts, eyewear, and even fragrance, because it is always a sign to distinguish. The designers "Replay" present their jeans Replay new clothing trend with accessories, always in high demand, are visible in our categories and online. Thanks for visiting and thanks again to share our articles on social networks, good continuation.
Review by risorseutili.com: Replay new clothing collection for men spring summer trends
Useful Fashion Resources: Trends Clothing Accessories
Anyway here and in our Feed Newsletter soon other new links in review: by Fashion trends Replay all news on Replay Store. In any case a big thank you to the visitors of risorseutili.com we wish you a fantastic day and good research in our brand articles.